Maewnam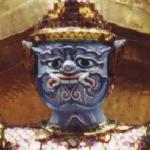 Joined: 07/10/2016 11:29:31
Messages: 4


Offline
I am currently reviewing the geonames link from Wikidata for the Thai subdivisions, and have spotted a few odd things so far. As I am new to geonames, maybe someone can clear up.

* There are two entries for Amphoe Mueang Satun, but my userlevel does not allow me to delete 6965199 (the unlinked 2nd one)
* Changwat Nakhon Si Thammarat 1608525 has a wrong outline - the islands Ko Samui and Ko Pha Ngan belong to Surat Thani 1150514
* In a few cases, the link to Wikipedia was not in the item marked as adm2, but a ppl.
* Very few adm2 items seem to be missing, the one I noticed already is Bang Sai in Ayutthaya (of which there are two with same transcripted name, but different Thai name)
* I only found two adm3 items. Are there any plans to add them systematically?
* The data quality for the ppl items is not so good, e.g. 7510871 had a name which does exist, so I changed it to the local government unit there.